Current measurement helper board
Recently, I needed to do battery current draw measurements on my Pinoccio boards. Since the battery is connected using this tinywiny JST connector, I couldn't just use some jumper wires to redirect the current flow through my multimeter. I ended up using jumper wires, combined with my Bus Pirate fanout cable, which has female connectors just small enough, to wire everything up. The result was a bit of a mess: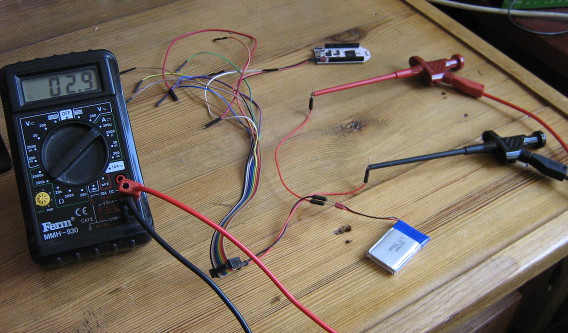 Admittedly, once I cleaned up all the other stuff around it from my desk for this picture, it was less messy than I thought, but still, jamming in jumper wires into battery connectors like this is bound to wear them out.
So, I ordered up some JST FSH connectors (as used by the battery) and some banana sockets and built a simple board that allows connecting a power source and a load, keeping the ground pins permanently connected, but feeding the positive pins through a pair of banana sockets where a current meter can plug in. For extra flexibility, I added a few other connections, like 2.54mm header pins and sockets, a barrel jack plug and more banana sockets for the power source and load. I just realized I should also add USB connectors, so I can easily measure current used by an USB device.
The board also features a switch (after digging in my stash, I found one old three-way switch, which is probably the first component to die in this setup. The switch allows switching between "on", "off" and "redirect through measurement pins" modes. I tried visualizing the behaviour of the pins on the top of the PCB, but I'm not too happy with the result. Oh well, as long as I know what does :-)
All I need is a pretty case to put under the PCB and a μCurrent to measure small currents accurately and I'm all set!
Update: The board was expanded by adding an USB-A and USB-B plug to interrupt USB power, with some twisted wire to keep the data lines connected, which seems to work (not shown in the image).