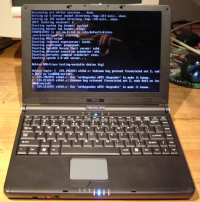 I was prompted to write this post after I got an email from another S270 user, thanking me for all the info I posted about these machines. He was also having power supply issues, with all the same resulting troubles I had (keyboard stuttering, USB issues, etc.).
He said he fixed this by simply replacing the notebook power supply and all his problems were gone. Interestingly I had already tried that and it didn't work for me, so we were having different problems.
Another reason for writing this post is that I actually fixed my power supply issues a few months ago. I can't really remember what prompted me too look into it again, but this time I didn't have anything to lose - I wasn't really using Xanthe for anything anymore. I opened up the casing completely, took out the mainboard to properly access the underside.
The power connector felt like it was fixed to the mainboard pretty tightly, but I put my soldering iron to it anyway. I just let the solder reflow nicely.
To my surprise, this actually worked. The power connector now powers the laptop properly, without any blinking. I suspect that the solder in one of the contacts had split and caused a flakey connection.
So, Xanthe is still idling around in a cabinet somewhere, but at least she's now usable as a backup or LARP prop sometime :-)