USB, Thunderbolt, Displayport & docks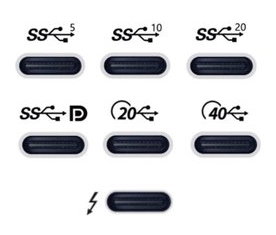 After I recently ordered a new laptop, I have been looking for a USB-C-connected dock to be used with my new laptop. This turned out to be quite complex, given there are really a lot of different bits of technology that can be involved, with various (continuously changing, yes I'm looking at you, USB!) marketing names to further confuse things.
As I'm prone to do, rather than just picking something and seeing if it works, I dug in to figure out how things really work and interact. I learned a ton of stuff in a short time, so I really needed to write this stuff down, both for my own sanity and future self, as well as for others to benefit.
I originally posted my notes on the Framework community forum, but it seemed more appropriate to publish them on my own blog eventually (also because there's no 32,000 character limit here :-p).
There are still quite a few assumptions or unknowns below, so if you have any confirmations, corrections or additions, please let me know in a reply (either here, or in the Framework community forum topic).
Parts of this post are based on info and suggestions provided by others on the Framework community forum, so many thanks to them!
Getting started
First off, I can recommend this article with a bit of overview and history of the involved USB and Thunderbolt technolgies.
Then, if you're looking for a dock, like I was, the Framework community forum has a good list of docks (focused on Framework operability), and Dan S. Charlton published an overview of Thunderbolt 4 docks and an overview of USB-C DP-altmode docks (both posts with important specs summarized, and occasional updates too).
Then, into the details...