Last weekend, I've travelled to Mattstedt, a small village near the center of Germany, to attend a folk festival there. The Gonnagles, a Dutch folk band, were performing at the festival and asked me to help out as an audio technician (since not all of the Gonnagles could attend). Liking the opportunity to do some more sound engineering, do some dancing and hang out with the Gonnagles, I agreed to come along.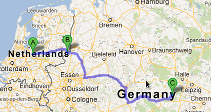 After I said yes, I realized that the Festival was quite far into Germany (5 hours from Enschede, though on the way there, we got caught in a traffic jam making it 7,5 hours, plus 1,5 hours from Amersfoort to Enschede). Still, I shared the car with nice people (Erik and Moes on the way there, just Erik on the way back) and the festival was nice, so in the end it was worth every minute of driving time. Moes, Erik and I also travelled on friday instead of saturday, leaving an extra fridaynight for dancing and saturday afternoon for relaxing.
During the festival, I ended up helping out with the audio engineering of the rest of the festival, instead of just the Gonnagles' performance. There were two audio technicians there, but neither of them were very experienced in setting up a live performance and getting to the bottom of any problems that (always) show up. Also, the rented equipmented wasn't quite top-notch quality, which didn't really help either.
Fortunately, I was able to help out a bit and debug some problems with the PA system and monitor speakers. On saturday, I also did most of the mixing for Cassis, one of the other bands. Apparently people thought I did a good job, since I got a lot of thanks from people who apparently thought I single-handedly saved the festival from horrible sound quality (which would be underappreciating the other technicians, which also worked hard to get everything running).
The festival itself was nice as well. I always enjoy the performance of Parasol, who are very talented, but I also enjoyed the other bands. The weather was good, so I had some nice relaxed moments lying in the sun, I listened to good music, shared some nice dances with a pretty German girl, and just had fun.
So, again next year?