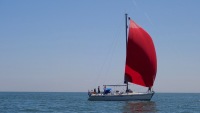 I originally wrote this, just under a year ago when I returned from this sailing trip. I found this draft post again a few weeks ago, being nearly finished. Since I'm about to leave on a new sailing trip next week (to France this time, if the wind permits), I thought it would be nice to finish this post before then. Even though it's a year old, the story is bizarre enough to publish it still :-)
I've put up photographs taken by me and Danny van den Akker up on Flickr.
Last year in May, I went on a 11 day sailing trip to the Isle of Wight an island off the southern coast of England. Together with my father, brother and two others on my father's boat as well as 10 other people on two more boats, we started out on this trip from Harderwijk on Thursday, navigating to the port of IJmuiden and going out on the north sea from there on Friday morning.
Initially, we had favourable wind and made good speed up to Dover at noon on Saturday. From then on, it seemed Murphy had climbed aboard our ship and we were in for our fair share of setbacks, partly balanced by some insane luck as well. In any case, here's a short timeline of the bad and lucky stuff: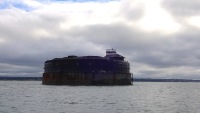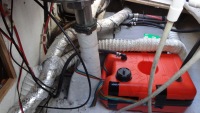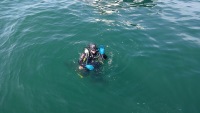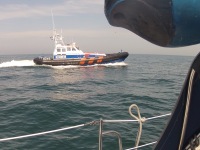 Overall, this was a crazy journey. All the problems we had have been a bit stressful and scary at times, but it was nice nonetheless. I especially enjoyed trying get things working again together, it was really a team effort.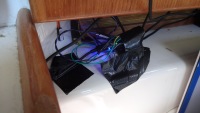 Also interesting, especially for me, is that we had installed an AIS receiver on-board, which allows receiving information from nearby ships about their name, position, course and speed. This is especially useful in busy areas with lots of big cargo ships and to safely make your way through the big shipping lanes at sea.
This AIS receiver needed to be wired up to the existing instruments and to my laptop, so we could view the information on our maps. So I spent most of the first day belowdecks figuring this stuff out. I continued fiddling with these connections and settings to improve the setup, running into some bugs and limitations. Knowing I might have to improvise, I had packed a few Arduinos, some basic electronics and an RS232 transceiver, which allowed me to essentially build a NMEA multiplexer that can forward some data and drop other data. Yay for building your own hardware and software while at sea. Also yay for not getting seasick easily :-p
Now, I'm getting ready for our next trip. We start, and possibly end, in Vlissingen this time (to buy a bit more time) and intend to go to Cherbourg. Let's hope this journey is a bit less "interesting" than the previous one!