Last weekend, I've been at the winter Efteling. The Efteling opens up for a few weekends during the cold season, with an icy theme. Last weekend was the first. Brenda had been buying a lot of Madras Chicken from Knorr, which bought us six tickets at a discount. We offered two to Dennis and Alice and gave the other two to Suus and Gijs for their respective birthdays.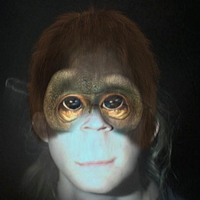 We also knew about a few other friends (LARPers) who would go in the same weekend, but a whole throng of LARPers turned up last Saturday (about 25 to 30 I think). Apart from that, it wasn't too busy at the park, so there were hardly any lines during the day. I have a nice souvenir picture from the Pandadroom (Panda dream) attraction (since everyone knows the Pandadroom isn't so much fun because the fancy 3D animation, but because of the playground with video games that comes after!).
Since we did about every attraction in the park, my brains were upside down in my skull and I was pretty exhausted when we finally got on the train home. Yet, I was not headed home, since my aunt held her birthday in Eindhoven, which is pretty close to the Efteling. I joined in on the party and was not in bed before 0530.
I went home the next day after breakfast (halfway the afternoon), back to Brenda. As you might imagine, the exhaustion had hardly lessened, so I decided not to get up together with Brenda Monday morning at 0650. Good thing, since I managed to sleep until 1300 for a whopping 13,5 hours of sleep. Didn't know I was that tired...